STAINLESS has a wide range of stainless steels in stock to meet the most stringent requirements of cutting-edge markets.
Stainless offers stainless steels that are produced with or without remelting; hot rolled or forged and then cold processed to obtain different surface finishes or thermal states. Stainless steels are mainly marketed for the medical and aeronautical sectors, but also for the micro-technology and industrial markets. They are mainly found in the form of bars, wires, flat bars, forged blocks or strips in a wide variety of dimensions. Stainless steels are corrosion and sometimes also heat resistant; they are known as refractory stainless steels.
What is stainless steel?
It is a metallic material based on iron to which mainly chromium is added to make the steel corrosion resistant. A minimum chromium content of about 10% is required, but the addition of other chemical elements such as nickel, copper or molybdenum further enhances corrosion resistance. Stainless steel corrosion can be generalised or local, known as pitting corrosion.
The presence of chromium in the alloy makes it possible to obtain a steel capable of resisting oxidation and rusting thanks to the formation of a passivation layer on the surface of the metal. This layer insulates the steel from the outside environment, thus protecting it and preventing further oxidation. Depending on the chemical composition of a stainless steel, its capacity to renew its passive layer will vary and the steel will be able to resist corrosion for more or less time.
Finally, depending on its mechanical and physical properties, stainless steel can be split into different families; we then refer to austenitic, martensitic, ferritic or duplex stainless steels.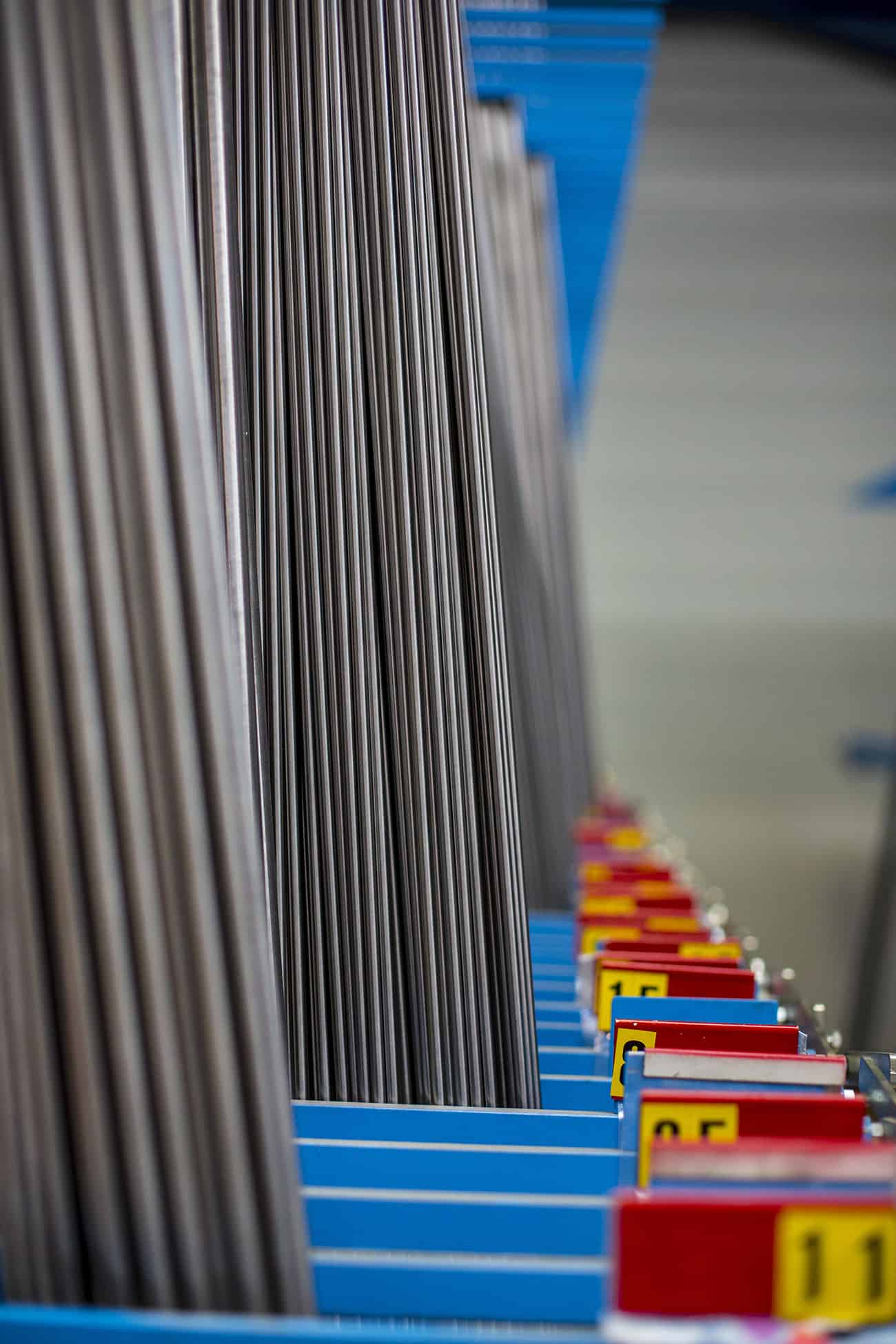 The medical, industrial and aeronautical sectors all use these steels.
Austenitic steel
Austenitic steels are especially used for medical sector instrumentation and some remelted steels are used by the prosthesis and implant markets due to their high corrosion and fatigue resistance. Austenitic steels can only be hardened by work hardening.
Martensitic steel
Martensitic, quenched and tempered medical steels are reserved for instrumentation requiring higher mechanical strength than austenitic steels. They are hardened by quenching followed by tempering, in which case they are known as QT (Quenching and Tempering) steels, or by quenching followed by ageing, in which case they are known as martensitic steels with PH (Precipitation Hardening) type structural hardening. The latter harden during ageing, whereas QT type steels have a hardening peak after quenching and are softened during tempering.
Stainless has a wide range of stainless steels from the world's leading producers.
Available formats: Strips, tubes, bars, wires, flat bars, forged blocks, powders
Other formats are available from stock or on order. Contact us.
Austenitic stainless steels
316 – 1.4401
304L- 1.4307
1.4435
A286 – 1.4980
Nitronic®50 – 1.3964
Nitronic®60
Martensitic steels with structural hardening (type PH)
17-7PH – 1.4568
Custom® 465 – 1.4614