X15TN® - 1.4123 - AISI 420 MOD - X40CrMoVN16-2
Origin
France
Description
Grade 1.4123 (AISI 420 MOD), an alternative to CRONIDUR 30®, is a very high hardness martensitic stainless steel with good abrasion resistance and a corrosion resistance far superior to that of the 17% Cr to 1% C range (type 440C). It is manufactured using ESR remelting to optimise fatigue life and corrosion resistance. Stainless offers the X15TN® grade, developed by Aubert & Duval.
Stainless has a range of sizes in stock to suit your application requirements. This product can also be made to measure or cut into slabs by our service centres.
Main applications
Due to its good resistance to corrosion and its high hardness in the treated state (>58HRC), the grade is used in particular in the manufacture of instruments for the medical sector (screwdrivers, drills, cutting guides, etc.), in bearings and in the cutlery sector.
Metallurgy
The elaboration processes associated with the transformation processes make it possible to obtain a homogeneous microstructure with a homogeneous distribution of carbides. In the processed state, the microstructure consists of martensite and undissolved carbides.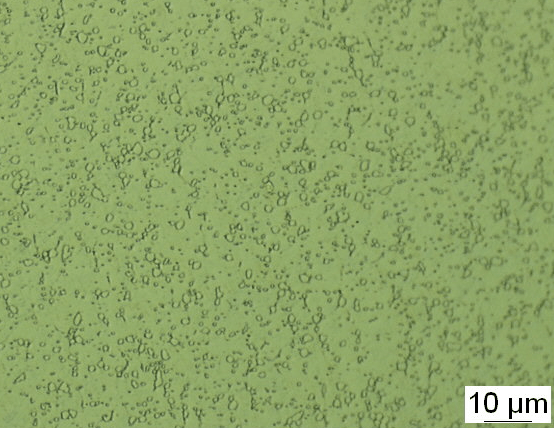 Machinability
Forgeability
The grade can be hot forged in the temperature range 1000/1200°C.
Polishability
Polishable grade in the treated condition with a structure consisting of martensite and carbides. The high level of cleanliness increases the polishability of this grade. Laser marking can lead to a local decrease in corrosion resistance, especially in the case of overheating.
Corrosion resistance
The grade contains molybdenum and nitrogen, which improve the resistance to generalized or pitting corrosion in the treated condition. Its resistance to corrosion in non-chloride environments is enhanced by polished, pickled and passivated surfaces.
The corrosion resistance is strongly degraded in the annealed condition or after welding, which is not recommended.
Standard Sizes
Round bars annealed (Condition A) – Surface ground or peeled depending on the diameter
Flat bars made to measure in the annealed condition (consult us)
Other formats: please contact us
Stainless has a wide range of stainless steels from the world's leading producers.
Available formats: Strips, tubes, bars, wires, flat bars, forged blocks, powders
Other formats are available from stock or on order. Contact us.
Austenitic stainless steels
316 – 1.4401
304L- 1.4307
1.4435
A286 – 1.4980
Nitronic®50 – 1.3964
Nitronic®60
Martensitic steels with structural hardening (type PH)
17-7PH – 1.4568