CUSTOM 455® - XM16 - 1.4543 – ASTM F899
Description
Alloy 1.4543 is a structurally hardened martensitic stainless steel that combines a hardness of about 48 HRC with good corrosion resistance. This grade has a hardening peak at 480°C which allows easy ageing after machining on an initially solution treated condition. The grade is remelted to improve the cleanliness and homogeneity of the material.
Stainless has a number of sources in stock, as well as different formats or states of the product to suit your processing needs.
This product can also be made to measure or cut into slabs by our service centres.
Main applications
Due to its good corrosion resistance, its good hardness in the treated state (48HRC) and its resilience, the grade is used in particular in the manufacture of instruments for the medical sector (drills, etc.), in general mechanics, in the food industry and in the automotive sector.
Metallurgy
The manufacturing processes combined with the transformation processes make it possible to obtain a homogeneous microstructure. In the treated state, the microstructure consists of martensite and nanometric intermetallic precipitates (Ni3Cu) which germinate during ageing.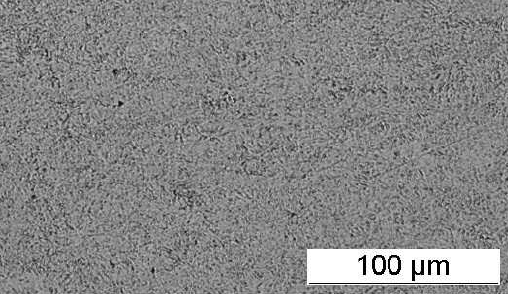 Machinability
Forgeability
The grade can be hot forged in the 900/1250°C temperature range. Resolving will be necessary to achieve maximum hardness.
Weldability
The grade can be welded using most processes. Welding should preferably be done before ageing to avoid embrittlement of the heat affected zone.
Typical heat treatments
Corrosion resistance
The grade is very corrosion resistant but must be passivated. The microstructure contains little or no chromium carbides, which makes it less susceptible to intergranular corrosion.
Standard Sizes
Round or flat bars annealed (Condition A or AT) or pre-treated – Surface hardened or ground according to diameter
Flat bars made to measure in the annealed condition (consult us)
Other format : sheets
The above information is given as an indication. They may vary depending on the diameter or condition of the alloys. For more detailed information or advice, please contact us
Stainless has a wide range of stainless steels from the world's leading producers.
Available formats: Strips, tubes, bars, wires, flat bars, forged blocks, powders
Other formats are available from stock or on order. Contact us.
Austenitic stainless steels
316 – 1.4401
304L- 1.4307
1.4435
A286 – 1.4980
Nitronic®50 – 1.3964
Nitronic®60
Martensitic steels with structural hardening (type PH)
17-7PH – 1.4568