ToughMet® 3 - CuNi15Sn8 alloy - C72900 - C96900
Origin
United States
Description
ToughMet® 3 is a beryllium-free copper alloy that hardens by spinodal decomposition during heat treatment. This alloy can be an alternative to CuBe2 as it combines high mechanical properties, high resistance to friction, seizure, wear and corrosion.
This alloy is produced and processed by Materion in the USA.
Stainless has a range of sizes and grades in stock to suit your application needs.
This product can also be custom made or cut into slugs by our service centres.
Main applications
ToughMet®3 has very good corrosion resistance, low coefficients of friction and very high hardness for a copper alloy. It is heat resistant up to 300°C depending on the condition.
Aeronautics: joint rings subject to high loads, screws, ball joint elements, hinge parts.
Others: oil research probes, connecting rod bearings, pins and ball joints for construction equipment.
Metallurgy
The grade is fine-grained and homogeneous in the AT and TS states. The typical microstructure in the AT condition is shown below: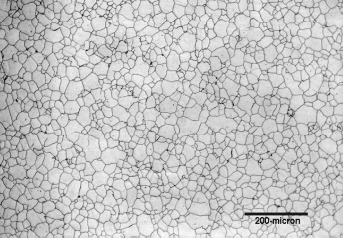 Machinability
ToughMet® 3 is less heat conductive than standard copper alloys, so it is advisable to use sufficient coolant to remove heat. A positive rake angle is strongly recommended.
Heat treatments
All products supplied in ToughMet®3 are already heat treated at the factory and can be used without additional heat treatment.
Corrosion resistance
ToughMet®3 alloy is highly resistant to corrosion in marine environments.  It complies with NACE MR0175/ ISO 15156. The alloy has excellent resistance to pitting and is not susceptible to hydrogen embrittlement.
Standard Sizes
Round bars, tubes, wire and flat bars in treated condition – surface ground or peeled.
Other shapes: Coils
THE MAIN Copper Beryllium ALLOY GRADES
Copper Beryllium

ST25 – Cuivre-béryllium
ST190 – alliage 190
ST290 – alliage 290
ST60 – alliage 60
ST174 – alliage 174
ST3 – alliage 3
Copper alloys
ST360 – ALLIAGE 360 – Nickel Beryllium
UA11N
ST630-20AMS
UNS C 63020
ST955
UNS C 95510
UZ19A6
CuZn19Al6
Toughmet3TS
CuNi15Sn8 écroui