STAINLESS FRANCE AND MATERION : A PARTNERSHIP BORN IN 1967
As a global supplier of high performance materials for aerospace and defence applications, STAINLESS provides a wide range of copper alloys, titanium alloys, stainless steels & other special alloys from partnerships with approved global producers.
On the occasion of the 54th edition of the Paris Air Show – Le Bourget, the STAINLESS group will co-exhibit with his partner MATERION , American group producer of high performance alloys and advanced materials for the demanding sectors.
MATERION, a long-standing partner of STAINLESS FRANCE, will be present all week on the STAINLESS stand (4D133) to explain how advanced copper and composite materials, such as ToughMet® or SupremEX®, offer solutions to seizure, corrosion and wear resistance that are highly required in the industry.
Samples of SupremEX® and ToughMet® will be on display at the stand.
Beyond the supply of raw materials for the major names in the industry, STAINLESS will be presenting a wide range of services : CNC sawing, technical assistance., training….
A new 40m2 expertise laboratory has recently been inaugurated to complete the services. It is equipped with a wide range of equipment to support all customers in their new developments.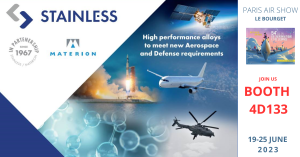 About STAINLESS:
Based in Dannemarie sur Crête in Franche Comté, STAINLESS GROUP is a leading international supplier of high-performance metal alloys, based on partnerships with the world's leading metallurgists. The group provides complementary services with high added value for its customers and exclusive technical support. With its 3 subsidiaries, respectively based in France, Germany and the United States, its industrial and logistical capacities and its human skills, the group supports industrialists in the medical, aeronautics, microtechnology, motorsport and general industry markets.
About MATERION:
Materion Corporation is a global leader in advanced materials solutions for high-performance industries including semiconductor, industrial, aerospace & defense, energy and automotive. With nearly 100 years of expertise in specialty engineered alloy systems, inorganic chemicals and powders, precious and non-precious metals, beryllium and beryllium composites, and precision filters and optical coatings, Materion partners with customers to enable breakthrough solutions that move the world forward. Headquartered in Mayfield Heights, Ohio, the company employs more than 3,400 talented people worldwide, serving customers in more than 60 countries.