Nimonic® 80A - 2.4952 - UNS N07080
Warning
: Undefined variable $ok in
/home/clients/49496ac5799634833bdbb123986691f8/sites/www.stainless.eu/wp-content/themes/stainless/page-templates/page-produit.php
on line
71
Description
Nimonic® 80A is a nickel-based alloy with excellent heat resistance, good creep and hot oxidation resistance up to 815°C. The mastery of the VIM process followed by ESR or VAR remelting gives it a high level of cleanliness and homogeneity to guarantee its properties.
Stainless has several qualified European or American sources in stock as well as different diameters that will allow you to best satisfy your needs in terms of implementation. This product can also be made to measure or cut into slugs by our service centres.
Each material is delivered with its producer's certificate of origin in order to guarantee total transparency and complete traceability.
Main applications
The grade is used for the manufacture of parts subject to high temperatures up to 815°C and high mechanical stresses. Applications include engine valves, aerospace engine parts such as discs and hot mountings.
Metallurgy
The grade can be dissolved and then work-hardened prior to hardening. The microstructure is homogeneous and fine-grained and hardening is achieved by the appearance of gamma prime precipitates. In the solution treated condition, the microstructure is illustrated below with an austenitic matrix and discontinuous carbides at the grain boundaries: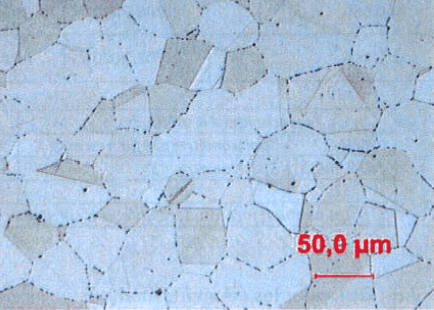 Machinability
Forgeability/Usability
The grade can be heat forged in the temperature range 1050/1200°C. Machining of this grade requires suitable equipment and tools. TIG or MIG welding is possible.
Heat treatments
Ageing is to be carried out at 700°C for 16 hours/air cold on the solution treated or solution treated and work hardened condition.
Corrosion resistance
The grade is highly resistant to hot oxidation, which allows it to be used in engine applications.
Standard Sizes
3m bars in the solution treated or solution treated and work hardened condition – Surface work hardened or ground
Other formats: please consult us
THE MAIN NICKEL-BASED ALLOYS DISTRIBUTED BY STAINLESS
Superalloys
Nimonic® 90
Nickel Beryllium 360
Inconel 718
Inconel 625
Inconel 600
Other grades are available from stock or on order.